Mu Cang Chai in the ripe rice season and Ha Long Bay of Vietnam were voted as the most colorful destination in the world in 2023.
This list includes 40 famous landmarks from around the world, selected by travel site Condé Nast Traveler based on their vibrant scenery.
Titled "The most colorful destinations in the world from Morocco to Vietnam", the article has reserved two places for Mu Cang Chai in the ripe rice season and Ha Long Bay of Vietnam.
Accordingly, Mu Cang Chai is mentioned as the place with brilliant terraced fields . This destination is famous for its impressive shooting angles posted on the social network Instagram.
The color of Mu Cang Chai changes from green in spring to golden yellow in late autumn when the rice is ripe.
Visitors should visit this place in early October when the rice is about to be harvested to be able to admire the wonderful scenery. The best time to see the ripe rice is at dawn and dusk.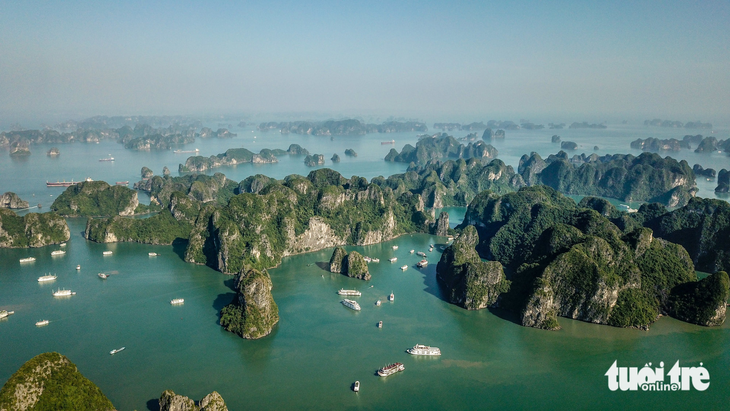 Right after Mu Cang Chai, Ha Long Bay is also introduced with many beautiful words. It was voted by UNESCO as one of the most beautiful places in the world.
Ha Long Bay owns more than 1,900 islands, large and small, creating a magnificent scenery for the bay and clear blue water.
This is an interesting destination in the summer when visitors can comfortably wear colorful bikinis. Besides, Ha Long Bay is also a destination not to be missed for those who love to explore nature. You can explore this bay by boat and enjoy the quiet, romantic atmosphere of this place.
Currently, Ha Long also has many impressive tourism products that make it easy for visitors to admire Ha Long Bay from above with helicopters and seaplanes.
Besides, prominent names mentioned by Condé Nast Traveler such as Maldives, Hatichi coastal park (Japan), Valley of Fire (Nevada, USA), Chengdu (China)…