Grammy-winning singer Christina Aguilera, who is now in Vietnam for a Tuesday show, celebrated her birthday earlier in the day by exploring UNESCO-recognized Ha Long Bay on a helicopter tour and cruise ship.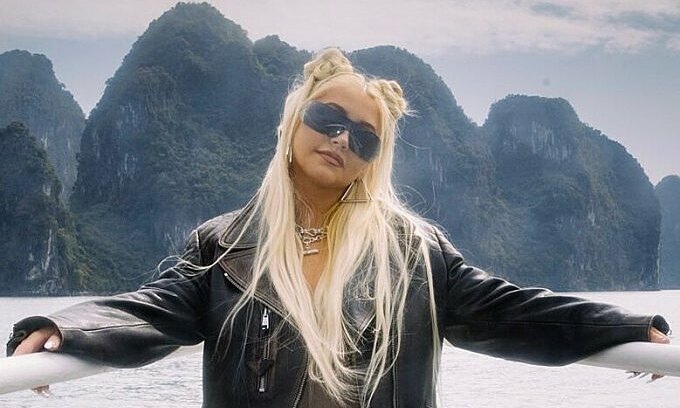 ​The American pop star Instagrammed a photo of herself with a birthday cake on a cruise ship in Ha Long Bay with the caption: "Birthday Wishes."
After arriving in Hanoi on Sunday, she and her fiancé booked a helicopter service to Ha Long Bay, around two hours east of the capital, to celebrate her birthday on a luxury cruise.
"Ha Long is a magnificent city and beautiful place. Thank you so much for giving me an experience on my birthday," she said during an interview ahead of her show, which is scheduled to take place on Tuesday at the Hanoi Opera House.
She described the airborne view of the mountains and waters in the area as "spectacular."
The couple also went kayaking along limestone karst mountains.
Ha Long Bay, a four hour drive east of Hanoi, is famous for limestone karst mountains rising out of emerald waters.
Aguilera, born in the United States in 1980, first became famous as a child star on Walt Disney"s The Mickey Mouse Club, along with Britney Spears, Justin Timberlake, and Ryan Gosling.
When her first album came out in 1999, it topped the Billboard 200 and sold more than 17 million copies.
She is one of the best-selling artists of all time with more than 75 million albums sold. Throughout her music career, the singer has won five Grammys and one Latin Grammy.
In 2008, Rolling Stone ranked Aguilera as number 58 on its list of the 100 best singers of all time. The media has dubbed her the "Voice of a Generation."




Halong Bay Luxury Cruises, Best Halong Bay Luxury Cruises , Luxury Halong Bay Cruises